Cleveland Pro Mobile Mechanic
What We Offer
Cleveland Pro Mobile Mechanic offers on-site automotive repair and maintenance services in Cleveland, OH and surrounding areas. We travel to our customers' locations, such as homes, offices, or roadside breakdowns, to provide convenience and flexibility. Our mobile mechanics perform services such as car repairs, engine repairs, brake repairs, A/C repairs, and spark plugs and ignition coil services. We bring our tools and expertise directly to your location, eliminating the need for you to tow your vehicle to a traditional repair shop.
CAR REPAIR
Top-notch car repair services for all makes and models.
A/C REPAIR
Convenient A/C repair to keep you cool on the road.

BRAKE REPAIR
Professional brake repair to ensure your safety and vehicle performance.
ENGINE REPAIR
Comprehensive engine repair to restore power and reliability to your vehicle.
TIRE REPLACEMENT
Fast tire replacement for a quick and hassle-free solution to your tire needs.
SPARK PLUGS AND IGNITION COILS
Top-quality spark plugs and ignition coil installation for improved engine performance and fuel efficiency.
Top-notch customer service
At the forefront of our priorities is customer satisfaction, as we value our clients and their cars and treat them with the utmost respect they deserve. Our primary goal is to ensure a hassle-free experience, aiming to swiftly get your car back on the road without delay.

professional and highly trained mechanics
With our team of certified mechanics, we boast experts in the field who possess extensive knowledge and experience to effectively handle nearly any car repair task that comes their way.

Convenient mobile services
By offering mobile services, we eliminate the necessity for you to invest time and money in transporting your vehicle to a physical garage. Our fully equipped fleet are always on the move, prepared to address all your car repair needs at your location.
Professional Automotive Repair in Cleveland, OH
Cleveland Pro Mobile Mechanic excels as a premier provider of on-the-go vehicle repair services, creating a seamless and stress-free repair experience. Committed to delivering dependable and efficient solutions, we provide a comprehensive array of repair services to individuals in Cleveland and the neighboring areas. Our team of skilled mechanics possesses the expertise and resources to address various vehicle issues, ranging from engine troubles to brake malfunctions, flat tires, or a dead battery.
What distinguishes Cleveland Pro Mobile Mechanic is our convenience and adaptability. We comprehend the inconvenience associated with having to tow your vehicle to a repair shop and endure lengthy waiting times for the repairs to be finished. That's why we present a mobile repair service that brings the repair shop to you.
We serve ALL of Cuyahoga County for issues such as:
Engine trouble

Brake failure

Electrical disturbance

Tire changes

Tune-ups
Plus more.
If you find yourself stranded on the roadside or in need of regular maintenance, rely on Cleveland Pro Mobile Mechanic as your trusted service provider for all your vehicle repair requirements. Call us today at (216) 859-3462!
Mechanics You Can Trust
Cleveland Pro Mobile Mechanic takes great joy in being a top-tier mobile vehicle repair service dedicated to serving all of you friends of the feathered. Our team consists of ASE certified mechanics who possess the expertise and understanding to handle vehicles of various types, including cars, trucks, SUVs, and crossovers. We strive to deliver exceptional auto care that instills trust in our customers.
Our core mission has always revolved around providing convenience and flexibility while ensuring that our customers' vehicles receive the utmost attention and service. We recognize the significance of reliable transportation and the disruptive impact that a vehicle breakdown can have on our customers' daily routines. To mitigate such inconveniences, we offer on-the-move vehicle repair services that directly reach your driveway, ensuring prompt restoration of your vehicle's functionality.
At Cleveland Pro Mobile Mechanic, our skilled mechanics are dedicated to providing exceptional auto care services in this hard water town. Contact us today to experience firsthand why we are the preferred mobile vehicle repair service in the area and let us showcase our commitment to superior service. Call (216) 859-3462 now!
Areas We Service
We understand the significance of dependable transportation and firmly believe that everyone in Greater Cleveland deserves high-quality auto care. That's precisely why we extend our mobile vehicle repair services to customers across the entire area, regardless of their location.
Euclid
Strongsville
Cleveland Heights
Westlake
North Olmsted
Solon
Garfield Heights
With our on-the-go vehicle repair service, exceptional auto care is just a phone call away. There's no need to go through the hassle of towing your vehicle to a repair shop or struggling with a disabled vehicle to reach a distant garage. Our fully mobile service brings the repair shop directly to you, regardless of your location along Ohio's crooked river.
Equipped with cutting-edge tools and technology, our mobile trucks ensure that we deliver top-tier auto care to our customers, regardless of the vehicle type they own. Whether you require routine maintenance, extensive repairs, or emergency roadside assistance, our team of ASE certified mechanics is dedicated to providing you with reliable and efficient service you can rely on. Dial (216) 859-3462.
No Mistake On The Lake!
Providing care and respect to our customers is a fundamental aspect of our business. Our mechanics are friendly and accessible, always ready to address any inquiries you may have about your vehicle.
We prioritize taking the time to fix your vehicle right. Transparency and honesty are values we hold in high regard. We are committed to providing upfront pricing without any hidden fees or attempts to upsell unnecessary services. Our recommendations are solely focused on what we genuinely believe is essential for the safety and long-term well-being of your vehicle.
By selecting Cleveland Pro Mobile Mechanic, you can have full confidence in a team of amiable professionals who are wholeheartedly dedicated to delivering outstanding service while treating you with the utmost care and respect.
Cleveland Engine Service
Cleveland Pro Mobile Mechanic is highly proficient in repairing gasoline and Diesel engines, providing solutions for a variety of issues including reduced fuel efficiency, difficult starting, misfires, and excessive exhaust smoke. Our team of skilled mechanics possesses vast expertise and the essential tools to handle even the most intricate engine repairs.
To initiate the engine repair process, we begin with a thorough diagnosis that pinpoints the underlying cause of the problem. Our team engages in a detailed discussion with you, presenting repair options along with transparent pricing and a clear timeline for completing the necessary work.
From minor tune-ups to light repair jobs, our mechanics possess the necessary expertise to execute the job with precision. We exclusively utilize high-quality parts and material that reflect our commitment to excellence.
Don't allow engine problems to leave you stranded at the drive-in, branded a fool. Reach out to Cleveland Pro Mobile Mechanic today at (216) 859-3462 for trustworthy engine repair services. Our dedicated team is focused on delivering exceptional service, ensuring that you swiftly and safely return to the road.
Car Electrical Repairs In Cleveland
Electrical issues can cause significant inconvenience for vehicle owners. Problems like broken lights, weak batteries, and faulty cables are common challenges faced by older cars. Our skilled technicians are well-prepared to address a wide range of electrical repairs and services, all conveniently conducted in your driveway.
Whether you're contending with a malfunctioning charging system, wiring complications, faulty lights, dashboard switches, ignition problems, or any other electrical component issue, our team possesses the expertise to diagnose the problem accurately and provide the necessary repairs to restore your vehicle's functionality. 
Apart from electrical repairs, our team is proficient in conducting routine maintenance tasks, including spark plug and spark plug wire replacements, as well as more intricate assignments such as alternator and generator replacements.
Opting for Cleveland Pro Mobile Mechanic allows you to save time and eliminate the hassle by having your vehicle serviced directly in your driveway. Therefore, if you're currently facing any electrical issues, don't hesitate to reach out to us today and schedule an appointment. Our dedicated team is ready to assist you in swiftly and safely getting back on the road. Reach us at (216) 859-3462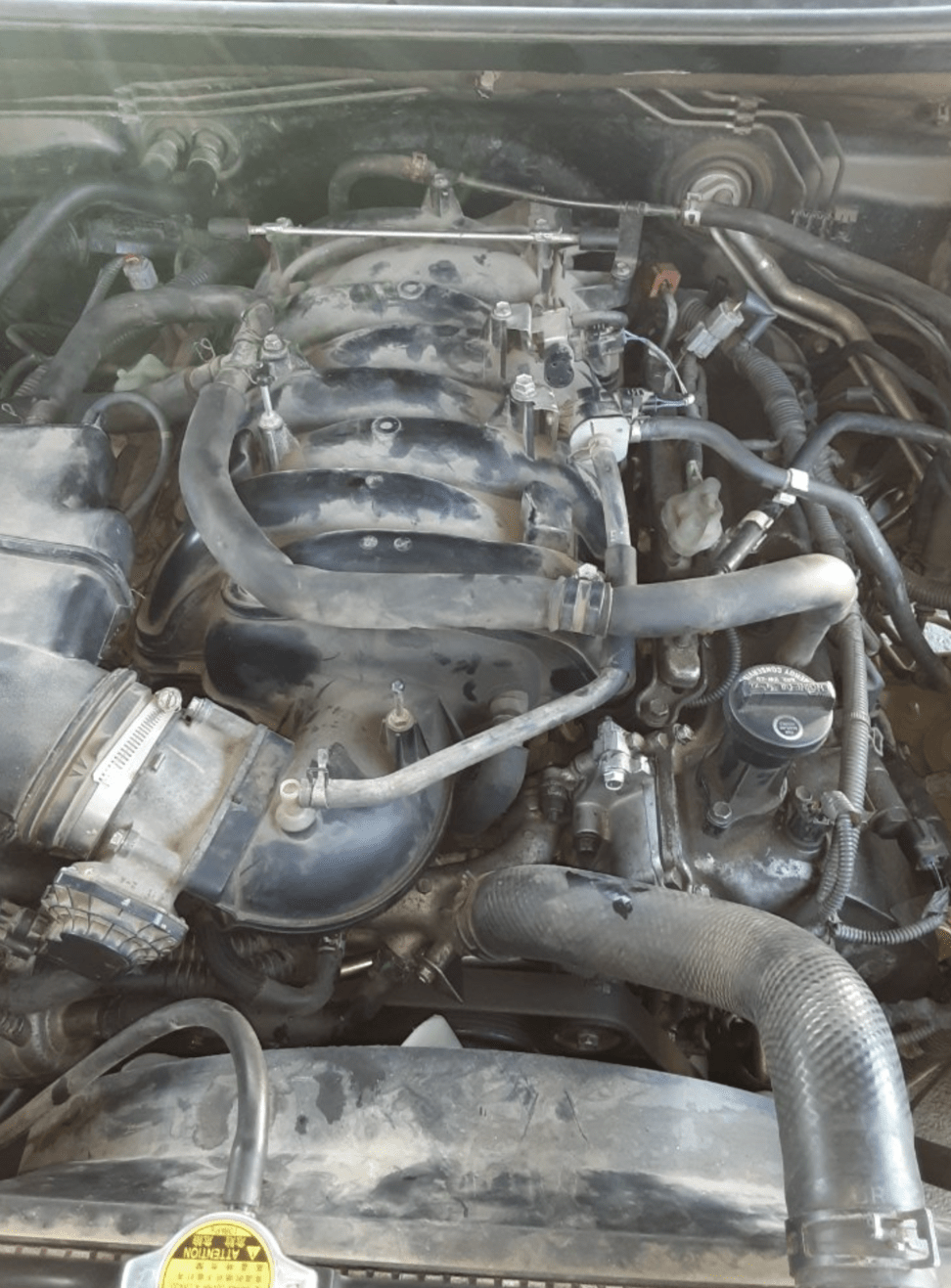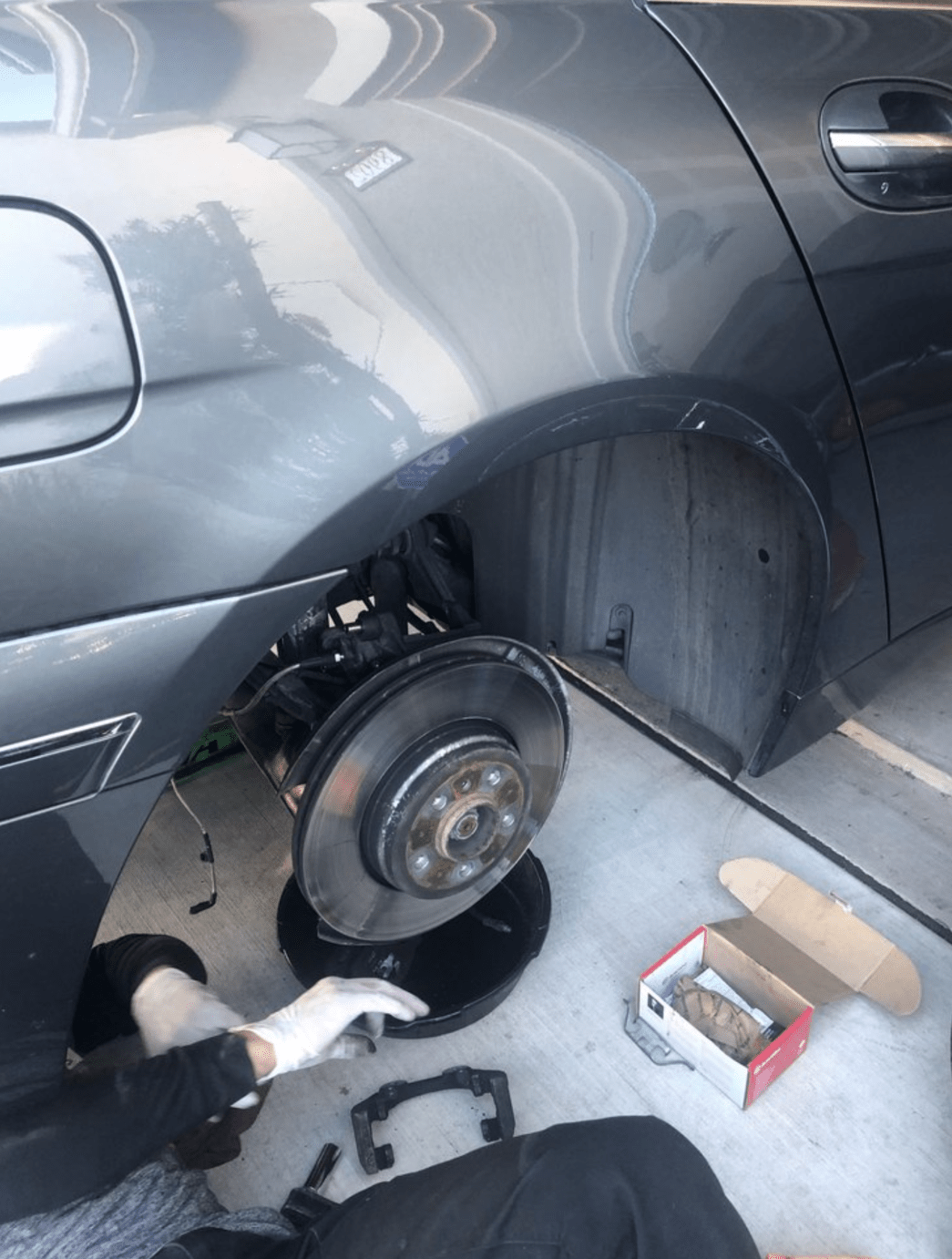 Cuyahoga At-Home Brake Repair
We understand the vital importance of reliable brakes for any vehicle, and Cleveland Pro Mobile Mechanic is dedicated to meeting this need. Our brake services are comprehensive, and we bring them right to your doorstep, ensuring your utmost convenience. Whether you notice squeaking or grinding noises, encounter a pulsating brake pedal, or experience reduced braking performance, we possess the expertise to diagnose the issue and provide the necessary repairs, restoring your brakes to optimal functionality.
Our team of experienced mechanics is well-equipped to handle a wide range of brake services, including brake pad, disc, drum, caliper, reservoir, and line replacements.
By choosing our mobile brake services, you can save valuable time and eliminate the hassle of driving your vehicle to a traditional garage. Our team is capable of performing the necessary brake repairs directly in your driveway, providing you with a swift and convenient service that instills confidence in your vehicle.
Whether you require routine brake maintenance or are currently facing brake issues, don't hesitate to reach out to Cleveland Pro Mobile Mechanic at (216) 859-3462. Our reliable and friendly brake services are designed to deliver trustworthy solutions you can rely on. 
Lake Erie Timing Belt Service
To uphold the peak performance of your engine, it is crucial to have a properly functioning timing belt that synchronizes the crankshaft and camshaft. Even minor wear and tear on the timing belt can disrupt engine timing, leading to rough running or misfires. In more severe cases, a broken timing belt while driving can result in substantial engine damage, including bent valves or camshaft impairment.
To mitigate these risks, we conduct thorough inspections of the timing belt for signs of wear and tear during routine oil changes. Our experienced team looks for indications such as cuts, cracks, stretching, or damage caused by engine oil, ensuring early detection of any potential issues.
The replacement of a timing belt and the adjustment of engine timing are intricate procedures that demand the expertise of a skilled technician, such as the professionals at Cleveland Pro Mobile Mechanic.
Should you encounter issues with your vehicle's engine performance, our team of experts can meticulously assess the condition of the timing belt and engine timing. We are fully equipped to execute any required replacements or repairs, ensuring that your vehicle is not only safe to drive but also operates at its optimal capacity. Call us at (216) 859-3462.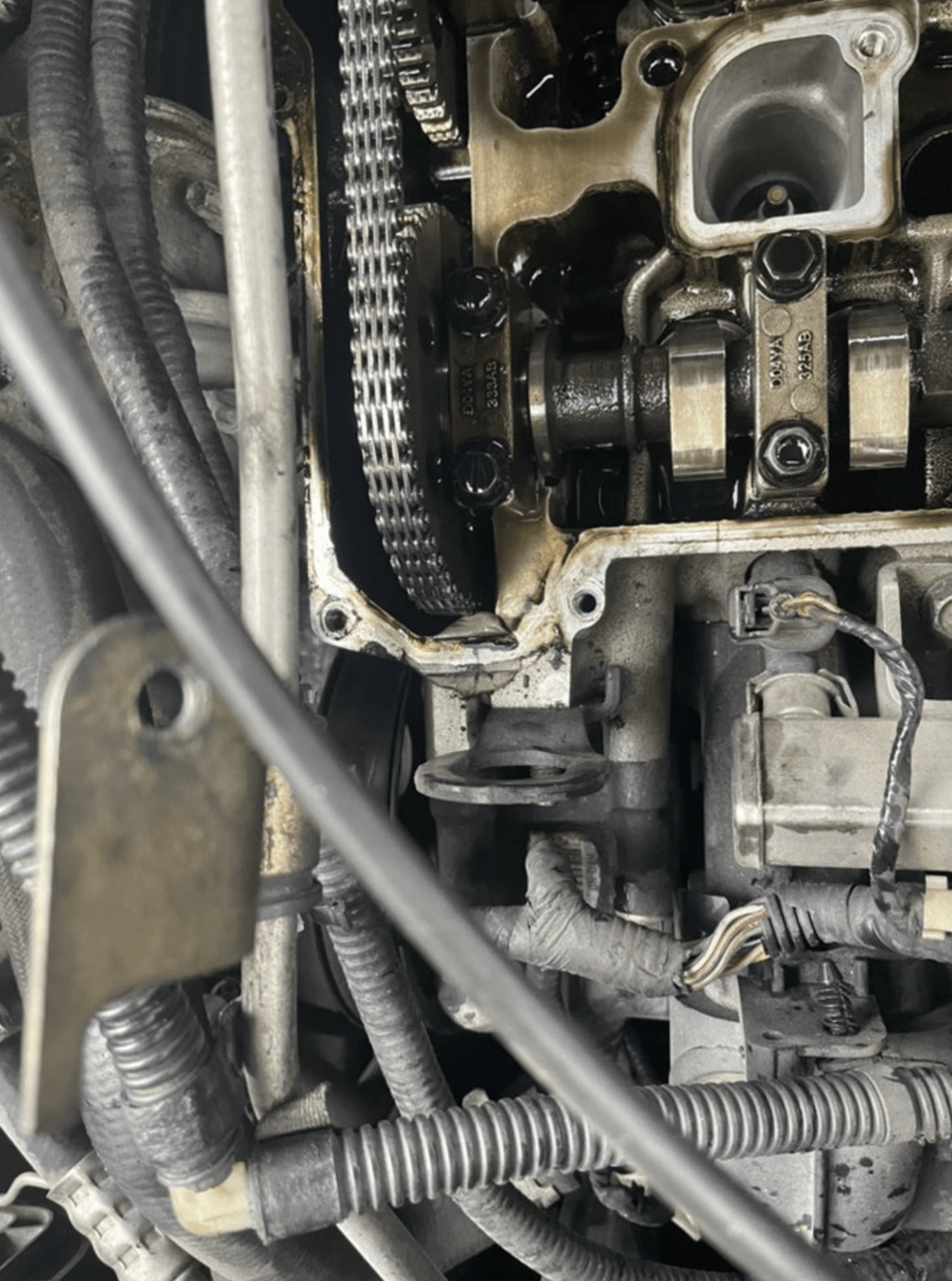 We're Fully Mobile
Our fleet of trucks is fully equipped with both the necessary tools and skilled technicians to provide on-site vehicle repairs in the comfort of your driveway or even while you're at work. We take convenience to the next level, offering a service that goes beyond ordinary expectations. While some companies specialize in food deliveries and others bring products from department stores, we believe that your mechanic should be just as accessible. And that's exactly what we provide.
We understand the inconvenience and time-consuming nature of transporting your vehicle to a traditional garage. To eliminate this hassle, we offer a unique solution—we bring the garage directly to you. Our well-equipped trucks are equipped with all the essential tools and equipment required to perform a comprehensive range of repairs and maintenance services on your vehicle.
Whether you're at home, in the office parking lot, or in any other location, our mobile service ensures that your vehicle receives the necessary attention without the need for you to go out of your way.
Say goodbye to the challenges of coordinating schedules or sacrificing work hours to bring your car in for service. At Cleveland Pro Mobile Mechanic, our team of seasoned mechanics is committed to delivering dependable and efficient service, all while maintaining the utmost standard of workmanship. Opt for our services and discover a new level of convenience for all your auto repair and maintenance requirements. Contact us at (216) 859-3462.
Satisfaction Guaranteed!
Committed to delivering top-notch car repair services, our team of skilled mechanics prioritizes the highest quality standards to ensure optimal performance of your vehicle. By utilizing state-of-the-art equipment and advanced techniques, we are equipped to effectively diagnose and resolve any car issues with precision and efficiency.
The experience I've had with Cleveland Pro Mobile Mechanic has been nothing short of exceptional. Convenience is the name of the game. The fact that they come directly to my location saves me a tremendous amount of time and effort.
As a satisfied customer of Cleveland Pro Mobile Mechanic, their convenient mobile service and skilled mechanics have consistently provided top-quality truck repairs that I can trust.
No more dealing with the hassle of transporting my vehicle to a traditional repair shop. Their mobile service is a game-changer. I highly recommend their services to anyone in need of reliable, convenient, and top-quality mobile automotive repairs.
Call The Finest Mobile Mechanics Around
At Cleveland Pro Mobile Mechanic, we deliver exceptional mobile mechanic services to the Greater Cleveland area. Our team of highly skilled technicians possesses the expertise to tackle a diverse array of mechanical problems across various vehicle types, including cars, trucks, motorcycles, and even boats.
We recognize that mechanical issues can arise unexpectedly, often leaving drivers feeling stranded and disheartened. That's why we bring our fully equipped garage directly to you, ensuring convenient and reliable repairs wherever you may be.
No matter if you're encountering problems with your brakes, electrical systems, tires, or engine, we possess the expertise and equipment to efficiently resolve the issue and have you back on the road swiftly and securely. Don't let car trouble make you late to the Guardians game. Reach out to us today and get everything under the hood running as it should.
Contact Cleveland Pro Mobile Mechanic at (216) 859-3462.